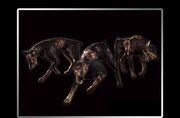 FILE:13 Cerberus (FILE:13 ケルベロス?) is a file in the CLUB96 "digital archive". Members of the fanclub can access it here. It was also localized by RE.NET, and can be found here.
Transcript
Edit
Description:
The Cerberus is a B.O.W. created by administering the T-Virus to a Doberman, a large breed of dog suitable for military use. Although the effects of the virus include considerable skin decay, the Cerberus's speed, leaping ability, endurance, and aggressiveness are all substantially enhanced, and it retains the canine trait of being excellent at attacking in packs. Its low price point, efficiency as a weapon, and excellent cost-effectiveness have made the Cerberus an outstanding success.

Notes:
While the dogs of Resident Evil are no doubt familiar to most fans, some players may not be aware that there are actually two different types. The Cerberus described above was developed as a B.O.W., but other dogs in the series have simply undergone incidental zombification, for instance after eating T-Virus contaminated food, and are usually known simply as Zombie Dogs. Both are equally despised as difficult targets to track due to their fast, erratic movements.
ケルベロスは軍用に適した大型犬のドーベルマンに、t-ウィルスを投与することで生み出されたB.O.W.である。t-ウィルスの影響で皮膚の腐敗が著しく進行しているが、移動速度、跳躍力、耐久力、そして凶暴性ははるかに向上。犬の習性から群れをなして目標を攻撃する能力に優れいている。価格も安価で、兵器として性能、コストパフォーマンス共にすぐれた成功例と言える。

---
ゲームでは?

シリーズではおなじみの犬型のクリーチャー。実は2種類に分けられることをご存じだろうか? まず、B.O.W.として開発された犬型クリーチャー。上記のケルベロスは、これにあたる。もう一つは、偶発的に生まれた犬型クリーチャー。t-ウィルスに汚染された飼料などを食べてゾンビ化した犬で、こちらは単にゾンビ犬と呼ばれることが多い。ただ、どちらも動きが素早く照準が合わせずらいので、プレイヤーにとっては嫌な敵というところは共通している。