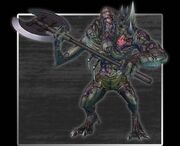 FILE:14 Monster Steve (FILE:14 モンスタースティーブ?) is a file in the CLUB96 "digital archive". Members of the fanclub can access it here. It was also localized by RE.NET, and can be found here.
Transcript
Description:
The mutated form of Steve Burnside after having been captured and administered the T-Veronica Virus by Alexia Ashford. The disfiguring effects of the virus make it difficult to discern any remaining human features apart from his face. His mind was not completely overwhelmed however, and he is able to regain control of himself in order to defend Claire with his own life.

Notes:
There are a number of examples of humans who mutate after being administered with a pathogen, from William Birkin who infects himself with the G-Virus, Irving who does the same with a dominant strain Plaga-based parasite, and Excella who is forcefully administered the Uroboros virus. Steve, thanks to his feelings for Claire, is one of only a few who were able to regain consciousness once infected, which may explain why he remains a popular character even though he has only appeared in a single game.
アレクシア・アシュフォードに捉えられたスティーブ・バーンサイドが、t-Veronicaウィルスを投与されクリーチャー化した姿。体はウィルスに侵食され大きく変形。顔以外に、人間の頃の特徴を見出すのは難しいほどである。だが、精神は完全な浸食の一歩手前でとどまっており、戦闘中に自我を取り戻す。そして、クレアを守るために自分の命を犠牲にしてこの世を去った。

---
ゲームでは?

ウィルスを投与され人間がクリーチャー化する例は多い。古くはG-ウィルスを自ら投与したウィリアム・バーキン。近作ではウロボロスウィルスを投与した(された)アーヴィングやエクセラなどがいる。だが、途中で意識を取り戻したのは、スティーブを含めても例は少ない。スティーブのクレアへの想いの強さが起こした奇跡と言えるが、このことが一作しか登場していないスティーブが、今でも高い人気を誇る要因と言えるだろう。