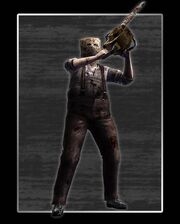 FILE:15 Ganado (Chainsaw) (FILE:15 ガナード(チェーンソー系)?) is a file in the CLUB96 "digital archive". Members of the fanclub can access it here. It was also localized by RE.NET, and can be found here.
Transcript
Edit
Description:
Ganados are humans parasitized by the subordinate-strain Plaga. Chainsaw Ganados have adapted more successfully to the invading Plaga compared with normal Ganados, and this endows them with superb physical strength and endurance. Their appetite for destruction is evident in the manner in which they brandish their lumber chainsaw and relentlessly pursue anything perceived as an enemy.

Notes:
Wearing a dirty shirt, suspenders, and a sack over his head, the Chainsaw Ganado is anything other than ordinary. The Chainsaw Sisters, whose heads are wrapped in bandages, and the giant Chainsaw Ganado, who wields a double-bladed chainsaw, are other examples of Chainsaw Ganado. As the latter only appears in The Mercenaries, those who haven't seen one yet should give the extra mode a shot.
ガナードとは、従属種プラーガに寄生された人間のことである。そのガナードの中でも、チェーンソー系のガナードは、通常のガナードよりも高い適合率でプラーガと同化した者たちであり、筋力、耐久力共に優れている。強い破壊衝動に支配され、伐採用のチェーンソーを振り回し、敵と認識した物を執拗に追う。

---
ゲームでは?

9月と言えば「バイオハザード リバイバルセレクション」発売。と言うわけで、今月はバイオハザード4の敵からピックアップして紹介していこう。さて、その第一弾の「ガナード(チェーンソー系)」だが、薄汚れたシャツにサスペンダー、そして顔に被った布袋と言うのが一般的なイメージではないだろうか。だが、他にも顔に包帯を巻いたチェーンソー姉妹や、二枚刃のチェーンソーを持つ巨大チェーンソー男なども存在する。巨大チェーンソー男は「ザ・マーセナリーズ」のみに登場するので、未見の方はチャレンジしてみよう。