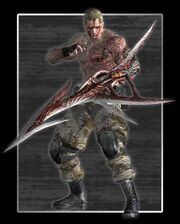 FILE:16 Jack Krauser (FILE:16 ジャック·クラウザー?) is a file in the CLUB96 "digital archive". Members of the fanclub can access it here. RE.NET localized this file, which can be found here.
Transcript
Description:
A former American soldier and one-time partner of Leon, Krauser joined Wesker after his military discharge and was ordered to infiltrate the cult of Los Illuminados. It was Krauser himself who carried out the kidnapping of the U.S. President's daughter, Ashley. Although Krauser's orders were to obtain a Plaga sample, he was seduced by its power and was willingly embedded with the dominant-strain variant in order to acquire superhuman abilities. After a confrontation with his old partner Leon, Krauser decides to settle things once and for all through combat, but he is ultimately overwhelmed.

Notes:
Although Krauser's rivalry with Leon is his biggest claim to fame, he also stands out among the characters available for use in The Mercenaries. As his main weapon is a bow, he can attack continuously without having to reload, and his invaluable left arm thrust can take out any enemy in one hit, a useful ability when chaining combos.
元はアメリカ陸軍所属の兵士であり、かつてはレオンとも行動を共にしたことがあるが、除隊後はウェスカーの配下となり、ロス・イルミナドス教団に潜入していた。合衆国大統領令嬢であるアシュリーを誘拐したのも彼である。プラーガのサンプル入手が目的であったが、その力に魅せられ、自ら支配種プラーガを受け入れ、超人的な身体能力を手に入れる。レオンと再会し、決着を付けるために戦いに挑むが敗れ去ってしまった。
ゲームでは?

ゲーム中ではレオンのライバルとして存在感を発揮していたがクラウザーだが、ここはマーセナリーズのプレイヤーキャラクターとしてのクラウザーに注目してみたい。主武器はアーチェリー、リロードが必要ないので、連続した攻撃が可能となっている。また、強烈な左腕突きは、どんな敵でも一撃で倒せるので、コンボをつなげる時に非常に重宝する。ちなみに、クラウザーはフリーアナウンサーの鈴木史朗氏のお気に入りのキャラクターでもある。筆者も生でプレイを見させていただいた事があるが、その腕前は相当なものであった。