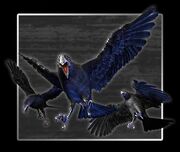 FILE:17 Crow (FILE:17 クロウ?) is a file in the CLUB96 "digital archive". Members of the fanclub can access it here. The RE.NET localization can be found here.
Transcript
Edit
Description:
Crows can suffer secondary infection by eating virus-contaminated dead flesh and will aggressively attack humans with little provocation. Although healthy crows are usually startled by loud noises, infected crows are rarely deterred even by the sound of a gunshot, presumably another effect of the T-Virus. As a potential airborne vector, crows pose a dangerous threat during epidemics as they can drastically increase the area of infection.

Notes:
RE1 veterans will no doubt be picturing the crows in the painting gallery, although dropping the crows in RE5 can be a lucrative distraction.
カラスが、ウィルスに冒された死肉を食べることで二次感染。凶暴化して人間を率先して襲うようになったのがクロウである。また、本来は大きな音には敏感な習性をもつが、t-ウィルスの影響か、銃声にもひるむことなく敵を襲い続けるようになってしまった。また、生物災害の際はその飛翔能力が災いし、ウィルスの広域感染を引き起こすなどの被害拡大の一端も担っている厄介なクリーチャーである。

---
ゲームでは?

9/20発売の「BEAMS T × BIOHAZARD 15TH ANNIVERSARY BOOK THE ELEMENTS」内のバイオハザード スタッフアンケート、「ペットとして飼いたいクリーチャーは?」の堂々3位に輝いたのが、このクロウである。なぜ3位のクリーチャーを取り上げたのか? それは1位と2位は、すでに紹介していたクリーチャーだったからだ。その1位と2位については、書籍内で確認してもらいたい。 ちなみに、クロウと言えばバイオ1の絵画室にいたものが印象深いが、バイオ5の攻撃こそしてこないものの倒すと金貨を落とすクロウもなかなか味わいがあると思うが、いかがだろうか?