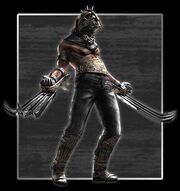 FILE:18 Garrador (FILE:18 ガラドール?) is a file in the CLUB96 "digital archive". Members of the fanclub can access it here. RE.NET localized the file here.
Transcript
Edit
Description:
Garradors are the result of body-strengthening Plaga experiments and as such display outstanding physical abilities. They have a row of razor-sharp extensible claws with bent tips affixed to each of their arms. As Garradors will viciously attack anything that enters their field of vision, their eyelids are stitched shut, and they are securely restrained in cells until needed. To compensate for their blindness, they have a heightened sense of hearing. Using this, they can accurately locate their targets and dismember them with their claws.

Notes:
RE4 and RE5 both feature enemies with elusive weak points that need to be revealed if one is to have any hope of defeating them. These points usually manifest themselves as a Plaga parasite, and the Garrador is no exception (the Plaga is located on its spine).
If you don't attack the Plaga on a Garrador's spine, you'll deal only one tenth of the damage you would do otherwise. So rather than a weak point, the Plaga could be considered the *only* damageable point.
プラーガを用いた肉体強化実験で生み出された、優れた身体能力を持つ戦士。両腕に先端が曲がった鋭利な三本の爪を装備している。視界に入るものを無差別に襲うほどに凶暴化してしまったため、まぶたを縫合され、通常は檻に入れられて厳重に拘束されている。戦闘においては、視覚の代わりに発達した聴覚で敵の位置を的確に察知し、両腕の爪を伸ばして八つ裂きにする。
ゲームでは?

バイオ4、バイオ5のゲームの特徴として、弱点を見つけて、そこを攻撃すると言うのがある。具体的にはプラーガと呼ばれる寄生生命体の部分を直接攻撃するのが有効なのであるが、それはこのガラドールも例外ではない。ガラドールの弱点であるプラーガは、背中にある。そこを攻撃するのが有効と言うか、そこ以外を攻撃してもダメージが1/10以下になってしまうので、そこを攻撃するしかないと言っても過言ではないだろう。