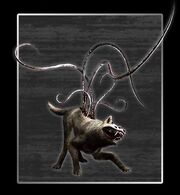 FILE:19 Colmillos (FILE:19 ゾンビ?) is a file in the CLUB96 "digital archive". Members of the fanclub can access it here. RE.NET's localization can be found here.
Transcript
Edit
Description:
Plaga-parasitized dogs that move in packs, attacking intruders in waves. Their name is the Spanish word for "fangs," which are their primary weapon, and which have grown to such an extent that they almost tear through the mouth. The parasite will also occasionally break through the skin on the Colmillo's back and use its tentacles to attack. Their canine fighting abilities are augmented with increased aggression and endurance due to Plaga assimilation.

Notes:
There are two variants of Plaga-infected dogs, Colmillos (RE4) and Adjule (RE5), and they are formed somewhat differently: while Colmillios feature only enlarged fangs, Adjule grow a set of densely packed fangs between the two halves of their split heads. It would be interesting to know whether this difference is due to the type of dog infected, or due to the different Plaga variants used (the improved Plagas of RE5 are a result of B.O.W. research).
プラーガに寄生された犬。群れで行動し、俊敏な動きで侵入者に波状攻撃を仕掛ける。スペイン語で「牙」を意味する名の通り、口が裂けるほどに発達した牙を武器とするが、時には背中を突き破った寄生体の触手が襲いかかって来ることもある。もとより戦闘能力の高い動物だが、プラーガとの同化で凶暴性を増し、耐久力も1飛躍的にアップした。

---
ゲームでは?

プラーガに寄生された犬と言えば、この「コルミロス(バイオ4)」と「アジュレ(バイオ5)」がいるが、その変異の仕方は大きく異なる。牙のみが発達したコルミロスに対し、アジュレは頭が割れてそこに牙がびっしりと生えそろっているのだ。この差は宿主となった犬種の差なのか、それとも元のプラーガの差(バイオ5のプラーガは、生物兵器としてチューニングされている)なのか、興味深いところである。