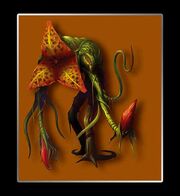 FILE:21 Ivy (FILE:21 イビー?) is a file in the CLUB96 "digital archive". Members of the fanclub can access it here. RE.NET provided an official localization, which can be found here.
Transcript
Description:
Formally designated Plant 43, Ivy is a B.O.W. developed through analysis of the data collected from Plant 42, the plant accidentally created in the Arklay laboratory guardhouse. As a result of selective breeding, the plant is capable of independent locomotion and can attack and ensnare prey through the use of its two tentacles. Additionally, the head-like bulb sprays a fluid containing digestive enzymes which can incapacitate victims. Ivies possess an exceptional ability to adapt to the surrounding environment, adapting almost immediately even to airborne toxins.

Notes:
Although carnivorous plants can be found in the real world, their existence is limited to basic responses to external stimuli. Due to T-Virus administration and other B.O.W. research related improvements, through a process that could be defined as evolution, Ivies have come to possess a primitive intelligence. Much like the similar Uroboros virus, the T-Virus has the effect of accelerating the evolutionary rate of infected species.
正式名称「プラント43」。これはアークレイ研究所寄宿舎で偶発的に生まれたプラント42を分析、その結果を基に開発されたB.O.Wである。自立歩行型植物に品種改良されており、2本のツタを自在に操って獲物を攻撃し捕獲する他、頭部のような大きなつぼみからは消化酵素液を発射して敵に致命傷を与える。また、環境適応能力に優れているため、空気中に有害な物質があっても即座に順応することができる。
ゲームでは?

食虫植物のように獲物を捕獲する植物は現実世界にもあるが、それらは刺激に対する反応のみであるのに対し、イビーはt-ウィルスの投与とB.O.W.としての改良を加えられた結果、知性さえも発現してしまったパターンである。これはある意味、進化と呼べなくもない。種を同じとするウロボロスウィルスが進化を促す作用があったように、t-ウィルスもまた生物を進化させる作用を持つと考えられるだろう。