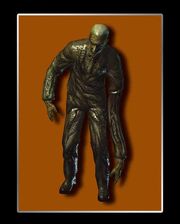 FILE:23 Mimicry Marcus (FILE:23 擬態マーカス?) is a file in the CLUB96 "digital archive". Members of the fanclub can access it here. The offiical RE.NET localization can be found here.
Transcript
Edit
Description:
A slew of countless leeches that takes the form of the late Professor James Marcus*. When threatened, the leeches abandon their illusion, reform, and prepare for attack (while they still maintain a vague humanoid form, all vestiges of Professor Marcus disappear completely). They attack by elongating what would be the arm, lashing it out like a whip.


The first head of the Umbrella Management Training Facility.

Notes:
Grouping together to mimic another creature is extraordinary behavior for lowly worms such as leeches to display. This behavior is a result not only of the accelerated evolution of each individual leech due to the Progenitor virus, but also of the fact that the leeches have developed a way to share and process information with each other in the same way that computers can perform parallel processing. This phenomenon would not have been possible without the Progenitor virus, a marvel even Professor Marcus himself would have been unable to foresee, and it is proof that the Progenitor and T-Virus's mutational and evolutionary abilities are beyond current human understanding.
無数のヒルが寄り集まり、生前のジェームス・マーカス(※)博士の容姿を模倣したクリーチャー。外敵が接近すると、ヒルは擬態を解いて攻撃態勢に入る。その場合も人型は維持されるが、その形状はかなりいびつで、マーカス博士の面影は完全に消え失せている。攻撃の際には、腕に相当する部位をムチのような形に変化させ、それを攻撃対象に叩きつける。

※ジェームス・マーカス博士
アンブレラ幹部養成所の初代所長

---
ゲームでは?

下等な環形動物であるヒルが複数集まり擬態と言う高度な行為を行う。これは、t-ウィルスがそれぞれのヒルを進化させただけではなく、その進化したヒル同士がつながり、コンピューターの並列処理のような情報処理ネットワークを構築した結果と言えるだろう。この現象は、t-ウィルスが存在しなければなしえないことであり、かつ開発者のマーカス博士にとっても予想外の事態だったのではないだろうか。t-ウィルスがもたらす劇的な変化、そして進化は、人智を超えたものであるということの明確な証左と言える。