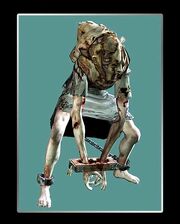 FILE:24 Lisa Trevor (FILE:24 リサ·トレヴァー?) is a file in the CLUB96 "digital archive". Members of the fanclub can access it here. It was localized by RE.NET, and can be found here.
Transcript
Description:
Grotesquely disfigured and with almost no recollection of her former self, Lisa Trevor has been subjected to a variety of horrific experiments for the last 20 years; her body is now little more than a living incubator for new prototype virus strains. She takes particular interest in attacking female researchers, perhaps mistaking them for her own mother, who lost her life in similar experiments.

Notes:
Mutations due to virus infection can occasionally produce unexpected results. The Licker may be one of the more well-known examples, but Lisa Trevor, who endured not only mutation but was also the source of the G-Virus, is by far the most extreme case. It is unknown whether the virus was a result of the synthesis of two or more of the other pathogens she was administered with, or if it was created due to the influence of some other unknown factor she possessed. The G-Virus made her all but immortal, and this fact is reflected in-game. For those seeking more information, her fate is detailed in The Umbrella Chronicles.
アークレイ研究所で20年以上もウィルス投与実験を繰り返された結果自我を失い、見るも無惨な異形に変貌した成人女性。試作ウィルスが新たに開発されては、それを体内に投与される日々を過ごしたリサ。彼女は、同じく実験体となって息絶えた母親の面影を求めるあまり、女性研究員を次々と襲撃するようになった。

---
ゲームでは?

ウィルス感染による変異は、時に予想外の事態を招く。リッカーなどはもっとも有名な例の一つと言えるが、その中でも、このリサ・トレヴァーの例は強烈だ。ウィルスによる変異を超え、その身に新たなウィルス「G-ウィルス」を宿すに至ったのだ。これが次々と投与されたウィルスによる複合作用なのか、彼女自身が持つ未知の因子が影響しているのかは定かではないが、その結果、彼女は不死身の肉体を持つまでになっており、それはゲームの中でも同様に描かれている。なお、彼女の末路については「アンブレラクロニクルズ」にて描かれているので、興味がある方はプレイしていただきたい。