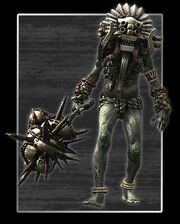 FILE:27 Giant Mjini (FILE:27 巨人マジニ?) is a file in the CLUB96 "digital archive". Members of the fanclub can access it here. The RE.NET localization can be found here.
Transcript
Description:
Members of the Ndipaya tribe whose height grew to around three meters due to an unexpected side effect of experimental Type 3 Plaga implantation. They are able to summon their companions with a war cry and wield crude handmade clubs fashioned from skulls and spikes. Both their offensive and defensive abilities are far superior to those of regular Wetland Majini.

Notes:
In the same way that certain creatures and individuals display exceptional compatibility with viruses, Giant Majini display exceptional compatibility with Plagas. The main sign of high compatibility with the Type 3 Plaga is gigantism, although this only manifests itself in mature individuals possessing both X and Y chromosomes (i.e., adult males). Although this effect is thought to be mostly due to the influence of the original dominant-strain Plaga, the number of test subjects is exceedingly small and the details are still unclear.
改良型プラーガ「タイプ3」は実験段階であったため予想外の副作用として一部のンディパヤ族が3mほどの身長に巨大化した。雄たけびを発して仲間を呼び、手には人間の頭蓋骨らしきものとし鋭い突起物を寄せ集められた手製のこん棒を持つ。通常の先住民マジニよりも攻撃力と防御力が秀でている。
ゲームでは?

ウィルスに過剰適合したクリーチャーがいるように、プラーガにも同様の過程で発生したクリーチャーがいる。その一例が、この巨人マジニである。XY型染色体を持つ成人個体(つまり大人の男性)にしか効果が出ない「プラーガ・タイプ3」の過剰適合者の一番の特徴は巨大化にある。これは支配種プラーガの因子が大きく影響していると考えられているが、被験対象の個体数が少ないので、その詳細は不明とされている。