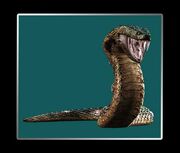 FILE:29 Yawn (FILE:29 ヨーノ?) is a file in the CLUB96 "digital archive". Members of the fanclub can access it here. It was localized by RE.NET, and can be found here.
Transcript
Edit
Description:
A venomous snake bred for experiments, Yawn escaped the laboratory and grew to gigantic proportions after contracting the T-Virus. It was named Yawn by researchers due to the way it opens its mouth when swallowing prey whole. It features a relatively short body when compared to its girth, and its fangs secrete an especially potent venom that can only be countered with a specifically formulated serum.

Notes:
The giant versions of everyday creatures provoke a fear that can't be explained by their size alone—it must be instinctive.
There are a number of memorable in-game moments associated with the Yawn, such as the first encounter with the creature itself and the hunt for the serum after the battle. The Yawn is also associated with the introduction of the surviving S.T.A.R.S. Bravo Team members, Richard and Rebecca—this might be another reason for its popularity.
B.O.W.開発のための披験体として飼育されていた毒蛇が施設から逃げ出し、t-ウィルスに感染してさらに巨大化したもの。獲物を丸呑みするときの挙動があくびに似ていることから、研究者たちによってヨーン(あくびの意味)と命名された。太さに反して全身が短いユニークなフォルムをしており、鋭い牙からは特殊な血清でなければ解毒できない強力な毒が分泌されている。

---
ゲームでは?

4位のネプチューンに続き、こちらt-ウィルスの影響で巨大化した生物である。見慣れたものが巨大化すると言うのは、ただ単に大きくなったと言うだけではなく、生理的に恐怖を感じさせるなにかがあるのだろう。さて、ゲーム中のヨーンは、ヨーン自体も印象深いクリーチャーではあるが、戦闘後の血清を持ってくるイベントも印象深い。また、S.T.A.R.S.の生き残りであるリチャード、そして人気キャラクターのレベッカが登場するというのも人気の一因と言えるのではないだろうか。