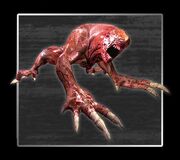 FILE 30: Licker β (FILE:30 リッカーβ?) is a file in the CLUB96 "digital archive". Members of the fanclub can access it here. The RE.NET localization can be found here.
Transcript
Edit
Description:
The successor to the Licker, the product of an unexpected mutation. The Licker β was created by a Tricell employee using the Progenitor virus in an attempt to improve the Licker, but the results were not entirely satisfactory. While it has almost completely lost its sense of sight, it has an acute sense of hearing and a sharp sense of smell. It can also climb walls and attack with its sharp claws and long tongue, features which make it very similar to the species that developed in Raccoon City.

Notes:
The Licker β is a unique B.O.W. in that it was developed by administering the Progenitor virus to a T-Virus B.O.W. The details can be read in the in-game file "Tricell Researcher Miguel's Journal - No. 1." When the Licker β is damaged, it flips over onto its back exposing its heart, making for an easy kill; be sure to take advantage of this weak point.
突然変異で生まれた「リッカー」の発展型B.O.W.。トライセルの研究員が始祖ウィルスを利用して再改良を加えようとしたが、満足のいく結果にはいたらなかった。しかし、視覚はほとんどないものの聴覚は敏感で、嗅覚も鋭くなっている。壁や天井に貼り付ける、鋭い爪や長い舌を利用して攻めるなど、主だった特長はラクーンシティで確認された種と同様である。

---
ゲームでは?

リッカーβは、t-ウィルスベースのB.O.W.に始祖ウィルスを加えて開発された特殊なB.O.W.である。その開発の経緯は、ゲーム中の「トライセル研究員ミゲルの日記・1」で確認することができる。また、リッカーβにダメージを与えた際、仰向けに倒れることがある。すると弱点である心臓がむき出しになるため、そこにダメージを与えることで簡単に倒すことができる。仰向けに倒れた時は、積極的に狙うと良いだろう。