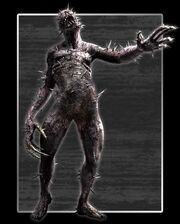 FILE:31 Iron Maiden (FILE:31 アイアンメイデン?) is a file in the CLUB96 "digital archive". Members of the fanclub can access it here. RE.NET released a translation here.
Transcript
Edit
Description:
A combat specialization of the Regenerador that has countless needles embedded in its body as well as the Regenerador's regenerative abilities. It can stretch its arms to capture and impale targets on the protruding needles. Its name is taken from a medieval torture instrument, a human-shaped container with spikes on the inside used to execute victims by closing them inside.

Notes:
The main characteristic of the Iron Maiden is its needles, which it uses for its deadly embrace. It shares the Regenerador's weaknesses, although this also makes it difficult to defeat if the player does not have a thermal scope. While it is also weak to incendiary grenades, if none are on hand it can be temporary immobilized by shooting out its legs, and then either defeated or escaped from accordingly.
リヘナラドールの復元能力に加え、全身に自在に伸縮する無数の針を備え、より攻撃に特化した改良種。両腕を長く伸ばして敵を捕獲した後に、引き寄せて全身から突き出た針で刺し貫く。名称は、中世ヨーロッパに実在した拷問具の名に由来。空洞の人形に人間を入れて、内部に突き出た長い釘で処刑する拷問具であり、「鉄の処女」の別名もある。

---
ゲームでは?

アイアンメイデンの最大のその特徴は、全身から突き出した針。それを活かした抱きつき攻撃は、まさに「死の抱擁」と表現するのがふさわしい。そして弱点はと言うと、リヘナラドール同様に体内に複数寄生したプラーガであるため、サーモスコープ付きライフルでないと狙うのは難しい非常に厄介な敵である。焼夷手榴弾に弱いが、無い場合は足を狙い動きを止めてから倒すか逃げるのが有効だろう。