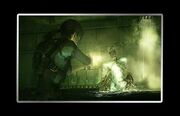 FILE 32: Ooze (FILE:32 ウーズ?) is a file in the CLUB96 "digital archive". Members of the fanclub can access it here. It was localized by RE.NET, and can be found here.
Transcript
Description:
These monstrous creatures are what result when humans are infected with the T-Abyss Virus. By adhering to the cellular membrane, the virus causes cells to absorb an excessive amount of water, and as the osmotic pressure increases, the cells swell and eventually burst open creating the Ooze's characteristic melted appearance. After the process instigated by the virus has been repeated throughout the whole body, the host is left with partially liquefied flesh and a white bloated body similar to that of a drowned corpse. As the T-Abyss Virus multiplies, it drives its host in search of nutrition and hydration—it is because of this impulse that Ooze suck the fluids from their prey.

Notes:
If there is one creature that symbolizes Revelations, it would be the Ooze, with its white, gelatinous skin evoking the disturbing imagery of drowned bodies. There are four general kinds of Ooze that appear in-game: the regular Ooze as shown here, those that fire bones due to a mutation in one arm (their other arm is almost entirely missing), those with scythe-like arms and a more powerful attack, and those with no head or arms that can self-destruct. Smart players will want to keep their distance from the latter.

『滴る者』を意味するこの奇怪な生物は、"t-Abyss"感染者のなれの果てだ。体内に侵入したウィルスは細胞膜と融合すると、過剰に水分を吸収させる。細胞膜は浸透圧で異常に膨れ上がり、最終的には溶けるように崩れ出す。これが人体全体で繰り返された結果、感染体は水死体のように白くふやけ、肉体は半ば液状化するのだ。増殖を繰り返すt-Abyssは、さらなる水分と養分を求め、宿主の肉体を衝き動かす。ウーズが啜るように獲物の体液を吸収するのは、この衝動のためである。

---
ゲームでは?

リベレーションズを象徴するクリーチャー、それがこのウーズである。白くぶよぶよとした肌は、水死体を連想させる怖さがある。ゲーム中登場するウーズには、大きく4種類がある。一つ目は絵にある通常タイプ。骨を飛ばすタイプのウーズは、片手が異常に進化しているため、もう片方の腕がほとんどない。両手がカマのようになっているのは攻撃力が高いタイプ。頭と手が無いタイプは、ダメージを与えると爆発する。接近戦は避けるべきだろう。