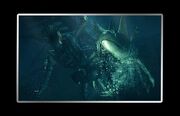 FILE:32 Sea Creeper (FILE:32 シークリーパー?) is a file in the CLUB96 "digital archive". Members of the fanclub can access it here. The RE.NET localization can be found here.
Transcript
Edit
Description:
As the name suggests, the Sea Creeper is an aquatic monster that results from a specific mutation following T-Abyss contagion in humans. The mutation is seen predominantly in females, and the frictionless shell reminiscent of long hair which covers their entire body enables them to silently approach victims in the water. When they are sufficiently close, they seize and feed from their prey using their six arms; none can escape the Sea Creeper's motherly embrace.

Notes:
The Sea Creeper can be a troublesome enemy when in the water. In murky water, it can be hard to discern how near they are with the naked eye, so the Genesis scanner should be used to detect them. In waterlogged areas, Sea Creepers can be dealt with using regular weapons, but underwater they become truly dangerous; there are no weapons that can fatally damage a Sea Creeper underwater, and the only way to avoid being attacked is to use Pulse Grenades as a diversion. As the player's air will only last so long, the best course of action is to get out of the water as soon as possible.
"t-Abyss"に感染した人体の特殊変異種であるシークリーパーは、文字通り水棲の怪物だ。この特異な変質は、主に女性の感染体に見られる徴候である。女性の長い髪を想起させる全身を覆う甲殻は摩擦を限りなく減衰させ、彼女たちは音もなく水中を忍び寄る。そして獲物に近よるや、6本に分かれた手を広げ、獲物を抱擁しながら摂食するのだ。その子供を抱く母のような愛情から逃れる術は皆無である。
ゲームでは?

水中をその行動範囲とするシークリーパーは厄介な敵である。濁った水面により接近に気付きにくいため、ハンドスキャナー「ジェネシス」での探知を活用するのが良いだろう。水が溜まった程度のところであれば通常の武器での対応も可能だが、本当に恐ろしいのは水中で遭遇した時である。プレイヤーは決定的なダメージを与えられる武器を持たないため、パルスグレードでのけん制しか、その進撃を止める方法はない。水中では長く息も続かないので、すぐに地上へ避難するのが良いだろう。