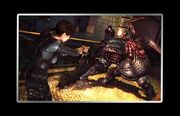 FILE:35 Scagdead (FILE:35 スキャグデッド?) is a file in the CLUB96 "digital archive". Members of the fanclub can access it here. The RE.NET localization can be found here.
Transcript
Edit
Description:
Scagdead are the result of a spontaneous mutation in individuals with a high resistance to the virus. This resistance is only seen in approximately one in thousand individuals, and even those individuals that are highly resistant are not completely immune. A few days to weeks after infection, the host develops a high fever along with itching and swelling between the shoulders and neck, and gradually loses consciousness as the swelling increases. Although the host remains completely aware that they are being taken over, nothing can be done once the virus has taken hold. Eventually they succumb to the virus-induced madness, although the unconscious mutterings of the Scagdead's human head are eerily similar to those of a sleepwalker.

Notes:
As can be inferred by their enormous bodies, Scagdead are much more resilient compared to regular Ooze. Although their saw-like right arm can inflict fatal damage instantly, they are relatively slow and best handled from a distance—while this may take a little longer, it is by far the safest option. Beware of focusing too much on a Scagdead, as the other creatures that spawn nearby while you're attacking it can quickly overwhelm you.
スキャグデッドは、ウィルス耐性の強い個体で発現する突然変異種である。(その割合は千人に一人程度)だが、耐性は感染の進行を遅めても止めることはない。感染から数日~数週間後に高熱に襲われ、肩口から首にかけて痒みを伴うシコリが発生。それが膨れ上がるにつれて意識は潰えていく。感染者は自分が乗っ取られていくことを自覚しながら何の手立てを講ずることもできないのだ。ウィルスの生み出す狂気に支配された後も、いまだ無自覚に言葉を紡ぐ元・主の首は、さながら夢遊病者を彷彿とさせる不気味さを有している。
ゲームでは?

通常のウーズとは一線を画する巨大な体躯は、その見た目にたがわず高い耐久力を持ち合わせている。また、のこぎり状の右腕は一撃で致命的なダメージを与えることができる。移動速度が遅いので、距離を保ちつつ、確実に銃弾を撃ち込んで行こう。時間はかかるが、倒すことは可能なはずだ。ただし、スキャグデッドに意識を集中するあまり、同時に出現する他のクリーチャーに囲まれてしまわないよう、注意する必要があるだろう。