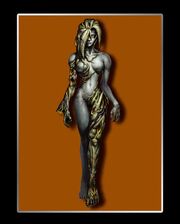 FILE:41 Alexia (FILE:41 アレクシア?) is a file in the CLUB96 "digital archive". Members of the fanclub can access it here. RE.NET provided a localization, which can be found here.
Transcript
Description:
Alexia was able to achieve symbiosis with her own creation, the T-Veronica Virus, by spending fifteen years in a state of suspended animation at the Antarctic Base. Her first form, while still humanoid, has her body covered in a tentacle-like fibrous material. Her blood reacts violently upon exposure to air, and the more she is damaged, the more the surrounding area is engulfed in a raging inferno.

Notes:
Alexia is the only female final boss in the series (The Queen Leech from RE0 was only named Queen for convenience; leeches are actually hermaphroditic), and features three forms that are fought one after the other. Her third and final form cannot be damaged with regular weapons and must be destroyed with the Linear Launcher. Although the Launcher features infinite ammo, its speed is relatively slow meaning that it takes some skill to predict the enemy's trajectory and land a successful hit.
科学者アレクシア・アシュフォードが、南極基地で自作したウィルス「t-Veronica」を自分の体内に投与。15年間のコールドスリープを経て共生に成功し、進化したもの。第一形態は、体全体に触手のような筋が巻きついている以外は、人型を維持。体内に循環している血液は、空気に触れると発火する性質を持っているため、危害を加えれば加えるほど周囲は紅蓮の炎に包まれる。
ゲームでは?

シリーズ唯一の女性ラスボスが、このアレクシアである(バイオハザード0のラスボスは女王ヒルと呼ばれているが、これは便宜上のもので、ヒルは本来雌雄同体)。その特徴は、第一形態から第三形態まで、連続して行われる戦闘。第三形態の時は通常の武器ではダメージを与えることができず、リニアランチャーを使ってとどめをさすこととなる。リニアランチャーの弾数は無限だが、弾速が遅いので相手の軌道を見て、タイミングをはかる必要がある。