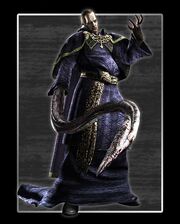 FILE:42 Saddler (FILE:42 サドラー?) is a file in the CLUB96 "digital archive". Members of the fanclub can access it here. An RE.NET localization can be found here.
Transcript
Description:
Saddler's mutated form as ruler of all Plagas. Numerous tentacles and four limbs sprout from his discarded body, and the head at the end of his elongated neck features a powerful maw. Each limb also has an eyeball, which all but eliminates any blind spots. Saddler's ability to jump incredible distances defies his gigantic size, and his hard carapace is virtually impervious to regular weapons.

Notes:
The weak point of Saddler's shell is the large eyeball at the end of his neck, which is easiest to attack when he has collapsed. As the time he spends on the floor is quite brief, it can be more effective to climb on top and stab him with your knife. This way, not only is it impossible to miss, but the damage dealt is usually higher.
教祖サドラーが全てのプラーガの支配者たる存在へと変貌した姿。抜け殻となった人体から無数の触手と4本の節足が生え、長く伸びた首の先には強力なアゴを備えた頭部がついている。また、節足の各所に眼球があるため、死角は一切存在しない。巨体でありながら、跳躍力に優れ、体を覆う外殻は硬く、並大抵の火器ではダメージを与えることすら難しい。

---
ゲームでは?

硬い外殻に覆われたサドラーの弱点は、触手の先端についている巨大な眼球。特に倒れ込んでいる間は狙いやすいこともあり、最大のチャンスと言える。ただし、その時間は非常に短いので、銃で狙いを付けるのに手間取っているとチャンスを逃すことがある。そのため、倒れ込んだ場合は一気に接近してよじ登り、ナイフで攻撃するのが効率的だ。狙いを外しにくいと言うだけではなく、与えるダメージ量も多いので、非常に有効な戦法と言える。