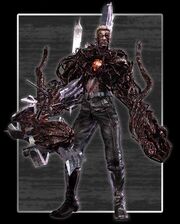 FILE:43 Wesker (FILE:43 ウェスカー?) is a file in the CLUB96 "digital archive". Members of the fanclub can access it here. An RE.NET localization can be found here.
Transcript
Edit
Description:
The once invincible, bullet-dodging Wesker deliberately infects himself with the Uroboros virus as a last resort after having been weakened by an overdose of the virus suppressant PG67A/W that was injected by Chris and Sheva. The Uroboros's characteristic tentacles have enveloped both arms, and the right arm has absorbed a variety of nearby metallic objects to form a particularly lethal weapon. Although Wesker has lost his lightning-fast movement and agility, his offensive and defensive abilities are more powerful than ever before.

Notes:
RE5 was the first in the main series to offer campaign co-op. This is reflected in the design of the final boss battle where both players are initially forced to fight separately. As a side-note, the previous battle onboard the bomber is the only place in the main game where Wesker's weapon, the Samurai Edge, is clearly discernible (it also appears as part of Wesker's load out in the Mercenaries and Versus modes).
超人的な能力を備え銃弾すらかわしていたウェスカーに、クリスたちがウィルス制御剤「PG67A/W」を投与。薬剤の過剰摂取による弱体化のため、最後の手段としてウロボロス・ウィルスを取り込んだのが、この姿である。ウロボロスの特徴である無数の触手が両腕と同化し、とりわけ右腕は周囲の金属片を取り込んできわめて殺傷能力の高い武器と化した。高速移動などの敏捷性は失われたが、パワーや防御力は、かつての比でないほど高まったと言える。
ゲームでは?

バイオハザード5で初めて取り入れられた本編のco-opプレイ。これは、ラスボス戦にも色濃く反映されている。クリスとシェバは序盤で分断。しばらくは、それぞれをフォローしながらのバトルとなる。なお余談であるが、ラスボス戦一つ手前の爆撃機内でのウェスカー戦で、彼が持っているのは、あの「サムライエッジ」である。本編でハッキリとサムライエッジを確認できるのは、ここだけである。(ボーナスゲームであるマーセナリーズ、バーサスでは、ウェスカーの所持武器として登場)