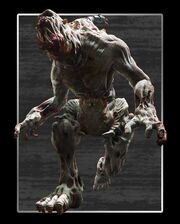 FILE:46 Ogroman (FILE:46 オグロマン?) is a file in the CLUB96 "digital archive". Members of the fanclub can access it here.
Transcript
イドニア共和国に出現した大型B.O.W.。東欧の言葉で"巨体"という名の通り、家々の屋根を見下ろすほどの大きな図体で暴れまわる。その圧倒的な力で建物を次々と壊し、クリスたちを追い詰めていく。オグロマンは背中に取り付けられたプラグによってヘリから吊るされ、市街地上空まで運ばれてきた。投下された後もこのプラグは残っており、周囲の部分は他の固い皮膚とは違って柔らかいようだ。

---
ゲームでは?

巨大なB.O.W.はこれまでにも『バイオハザード4』のエルヒガンテ、『バイオハザード5』のンデスなどが確認されている。こちらは寄生体のプラーガにより作り出されたタイプ。ある程度ダメージを与えると、背中から寄生体が飛び出すという性質を持っていた。
Ad blocker interference detected!
Wikia is a free-to-use site that makes money from advertising. We have a modified experience for viewers using ad blockers

Wikia is not accessible if you've made further modifications. Remove the custom ad blocker rule(s) and the page will load as expected.