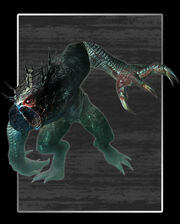 FILE:58 Farfarello (FILE:58 ファルファレロ?) is a file in the CLUB96 "digital archive". Members of the fanclub can access it here.
Transcript
長く鋭い爪と驚異的な俊敏性を誇る戦闘型生物兵器。周囲の背景と溶け込み、透明化する能力を持つ。ファルファレルロは、爬虫類のDNAにt-ウィルスを投与して開発された"ハンター"に、t-Abyssウィルスを加えて改良された種である。複数のウィルス投与の影響からか攻撃性が増し、ハンターよりも著しくコントロール性が劣化しているらしい。ファルファレルロという名は、ダンテの『神曲』に登場する、"マレ・ブランケ(邪悪な爪)"と呼ばれる悪魔の集団のうちの一人に由来している。

---
ゲームでは?


ファルファレルロは透明化できるため、位置の特定が困難である。しかし、バイオスキャナー"ジェネシス"で捕捉が可能である。また、歩行時に舞う雪や、レーザーポインターを利用することでも居場所を把握できる。
A combat-type bio weapon proud of its agility and tremendous long, sharp claws. They have the ability to penetrate and blend in with the surroundings. Farfarello is a "Hunter" species that was developed and improved by the administration of the t-Abyss virus in addition to the the reptilian t-Virus DNA. Due to the multiple administration of both viruses, their aggression has increased along with their control resistance, which seems to have been severely degraded than the Hunters. Farfarello's name is derived from a demon called "Marais Blankenese" (Evil Claw) which is from Dante's "Divine Comedy".

---
In the game?

Since the Farfarello can be invisible, spotting it will be difficult. However, it is possible to detect them by using the bio-scanner "Genesis". In addition, the player can also detect it when snow dances while it is walking on the snow and also by using the laser pointer.