Ad blocker interference detected!
Wikia is a free-to-use site that makes money from advertising. We have a modified experience for viewers using ad blockers

Wikia is not accessible if you've made further modifications. Remove the custom ad blocker rule(s) and the page will load as expected.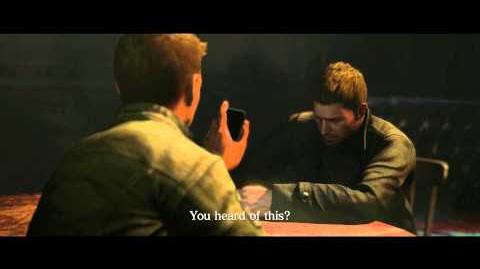 'Fallen Hero (転落した英雄 , Tenraku shita eiyū?) is a cutscene in Resident Evil 6. It is played during Chris Chapter 1.
Plot
| | |
| --- | --- |
| | This section is empty. You can help out the Resident Evil Wiki by inserting the appropriate content here. |
Transcript
June 29, 2013
Eastern Europe

Chris: "Another round."

Piers: "Hard to find a good steak around here. Not like back home."

Chris: "Fill her up."

Woman: "You've had enough."

Chris: "Listen sweetheart, you're here to pour drinks and look pretty, so how about you shut your mouth?"

Woman: "How about you get the hell out my bar?"

Chris: "Nowhere to go."

Man: "Dama vas zamolio da odu." ("The lady asked you to leave.")
"I said she asked you to leave."

Piers: "Never thought I'd find Chris Redfield wasting away in a shithole like this."

Chris: "Who the hell are you?"

Piers: "Piers. Piers Nivans."

Chris: "Never heard o'ya."

Piers: "How about this? You heard of this?"

Chris: "What is that?"

Piers:"You really don't remember anything, do you?"
"Bioterrorism."

Chris: "Bio..."

Piers:"You can't hide from your past, Chris. No matter where you go or what you do."

Chris: "Who are you? What is this?"

Piers: "OK... You don't remember me? Well how about them?"
"Look. I said LOOK! Those were your men! Men who died under your command! You owe it to them to remember, Chris! If you walk away now, then this was all for nothing!"

Chris: "Enough!"

Piers: "Damn it! Six months of searching for you, and this is what I find!"

Chris: "BSAA..."

Piers: "Yeah, It's where you belong. Everyone's waiting."

Chris: "Everyone?"

Piers:"We're taking you back, Captain. One way or another."
The original Japanese transcript for this file is not yet present. Please add it.
Resident Evil 6 cutscene library
Leon Story
Chris Story

Chapter 1
Chapter 2
Chapter 3
Chapter 4
Chapter 5
Ending

Jake Story

Chapter 1
Chapter 2
Chapter 3
Chapter 4
Chapter 5
Ending

Ada Story

Chapter 1
Chapter 2
Chapter 3
Chapter 4
Chapter 5
Ending