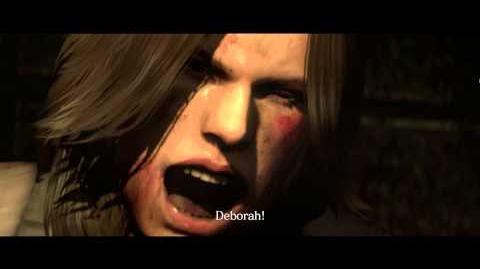 'Fearsome Foe, known in the Japanese script as "Greatest Enemy" (最大の敵, Saidai no teki?) is a cutscene that is part of the Resident Evil 6 storyline. It is present in Chapter 2 of Leon's Story.
| | |
| --- | --- |
| | This section is empty. You can help out the Resident Evil Wiki by inserting the appropriate content here. |
Transcript
Edit
Helena Harper:
No more tears.
Not until I avenge your death.
Please...
Forgive me.
I'll make him pay for this.

---
Helena Harper:
Look at me
Helena Harper:
もう泣かないわ
あなたの仇をとるまでは
だから…
許して…
あいつが これを仕組んだのよ…

---
Helena Harper:
こっち見て!大丈夫から!
私を見て…見るのよ

Deborah Harper:
助けて…

Helena Harper:
絶対 助けるわ
だからデボラ こっちを見て
やめて!
ダメ!姉だけは!
私が行くから!なんでもするから!
お願い!
お願いよ!やめさせて!
デボラ !

---
Helena Harper:
私はシモンズの言うがまま…
大統領の警備に隙を作った…

Ada Wong:
シモンズらしいやり方ね

Leon S. Kennedy:
ヤツの目的は なんだ

Ada Wong:
話せば長いわ
相手は この国を作った連中よ
うまく立ち回らないと
自分たちが死ぬことになるわ

Ingrid Hunnigan:
レオン今どこなの?

Leon S. Kennedy:
シモンズは そこにいるか?

Ingrid Hunnigan:
ええ…

Leon S. Kennedy:
ヤツに注意しろ
ヤツが事件の…!

Derek C. Simmons:
私が なんだって?

Helena Harper:
…シモンズ!

I will not cry anymore.
-
-
Forgive me.
-
-

---
Helena Harper:
Bibliography
Edit
Resident Evil 6 cutscene library
Leon Story
Chris Story

Chapter 1
Chapter 2
Chapter 3
Chapter 4
Chapter 5
Ending

Jake Story

Chapter 1
Chapter 2
Chapter 3
Chapter 4
Chapter 5
Ending

Ada Story