Ad blocker interference detected!
Wikia is a free-to-use site that makes money from advertising. We have a modified experience for viewers using ad blockers

Wikia is not accessible if you've made further modifications. Remove the custom ad blocker rule(s) and the page will load as expected.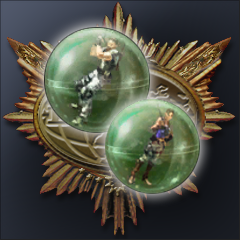 The concept of the bottlecap figures in Resident Evil 4 is continued on Resident Evil 5, albeit this time they are named simply Figures. This time, the figures are unlocked by buying them with exchange points in the bonus features menu. Figurines become available for purchase based on how far you have gotten in the game, the difficulty in which you finish the game, and the number of BSAA Emblems found.
List of figurines
There are forty-six figurines in the standard game, with a further ten available as part of DLC. You need all 30 BSAA Emblems + more than 12,500 Bonus Points to get all figurines.
Main game
| Number | Image | Name | Japanese name | Cost in points | How to unlock |
| --- | --- | --- | --- | --- | --- |
| No.01 | | Chris (BSAA) | クリス(BSAA隊員) | 0 | Unlocked from start |
| No.02 | | Sheva (BSAA) | シェバ(BSAA隊員) | 0 | Unlocked from start |
| No.03 | | Josh | ジョッシュ | 500 | Collect 10 BSAA emblems; complete Chapter 3 |
| No.04 | | Jill (Brainwashed) | ジル(ダークサイド) | 500 | Collect 10 BSAA emblems; complete Chapter 5 |
| No.05 | | Wesker | ウェスカー | 500 | Collect 10 BSAA emblems; complete Chapter 5 |
| No.06 | | Excella | エクセラ | 500 | Collect 10 BSAA emblems; complete Chapter 5 |
| No.07 | | Irving | アーヴィング | 500 | Collect 10 BSAA emblems; complete Chapter 2 |
| No.08 | | Spencer | スペンサー | 500 | Collect 10 BSAA emblems; complete Chapter 6 |
| No.09 | | DeChant | デチャント | 500 | Collect 5 BSAA emblems; complete Chapter 1 |
| No.10 | | Dave | デイヴ | 500 | Collect 5 BSAA emblems; complete Chapter 2 |
| No.11 | | Kirk | カーク | 500 | Collect 5 BSAA emblems; complete Chapter 1 |
| No.12 | | Reynard | レイナード | 500 | Collect 5 BSAA emblems; complete Chapter 1 |
| No.13 | | Majini (Town A) | マジニ(市民A) | 500 | Complete Chapter 1 |
| No.14 | | Majini (Town B) | マジニ(市民B) | 500 | Complete Chapter 2 |
| No.15 | | Majini (Town C) | マジニ(市民C) | 500 | Complete Chapter 2 |
| No.16 | | Majini (Town D) | マジニ(市民D) | 500 | Complete Chapter 1 |
| No.17 | | Majini (Cephalo) | マジニ(ケファロ) | 500 | Collect 5 BSAA emblems; complete Chapter 2 |
| No.18 | | Majini (Agitator) | マジニ(扇動者) | 500 | Collect 5 BSAA emblems; complete Chapter 1 |
| No.19 | | Majini (Wetlands A) | マジニ(先住民A) | 500 | Complete Chapter 3 |
| No.20 | | Majini (Wetlands B) | マジニ(先住民B) | 500 | Complete Chapter 4 |
| No.21 | | Majini (Wetlands C) | マジニ(先住民C) | 500 | Complete Chapter 3 |
| No.22 | | Giant Majini | 巨人マジニ | 500 | Collect 10 BSAA emblems; complete Chapter 4 |
| No.23 | | Majini (Base A) | マジニ(武装兵A) | 500 | Complete Chapter 5 |
| No.24 | | Majini (Base B) | マジニ(武装兵B) | 500 | Complete Chapter 5 |
| No.25 | | Majini (Duvalia) | マジニ(デュバリア) | 500 | Collect 5 BSAA emblems; complete Chapter 6 |
| No.26 | | Reaper | リーパー | 500 | Collect 5 BSAA emblems; complete Chapter 6 |
| No.27 | | Big Man Majini | 巨漢マジニ | 500 | Collect 5 BSAA emblems; complete Chapter 1 |
| No.28 | | Executioner Majini | 処刑マジニ | 500 | Collect 10 BSAA emblems; complete Chapter 1 |
| No.29 | | Chainsaw Majini | チェーンソーマジニ | 500 | Collect 10 BSAA emblems; complete Chapter 2 |
| No.30 | | Gatling gun Majini | ガトリングマジニ | 500 | Collect 10 BSAA emblems; complete Chapter 6 |
| No.31 | | Motorcycle Majini | ライダーマジニ | 500 | Collect 5 BSAA emblems; complete Chapter 2 |
| No.32 | | Uroboros | ウロボロス | 500 | Collect 10 BSAA emblems; complete Chapter 5 |
| No.33 | | Licker | リッカーβ | 500 | Collect 5 BSAA emblems; complete Chapter 5 |
| No.34 | | Kipepeo | キペペオ | 500 | Complete Chapter 4 |
| No.35 | | Bui Kichwa | ブイキチワ | 500 | Complete Chapter 4 |
| No.36 | | Adjule | アジュレ | 500 | Collect 5 BSAA emblems; complete Chapter 4 |
| No.37 | | Crocodile | ワニ | 500 | Collect 5 BSAA emblems; complete Chapter 3 |
| No.38 | | Uroboros Aheri | ウロボロス・アヘリ | 500 | Collect 30 BSAA emblems; complete Chapter 6 |
| No.39 | | U-8 | U-8 | 500 | Collect 10 BSAA emblems; complete Chapter 5 |
| No.40 | | Popokarimu | ポポカリム | 500 | Collect 10 BSAA emblems; complete Chapter 2 |
| No.41 | | Ndesu | ンデス | 500 | Collect 10 BSAA emblems; complete Chapter 2 |
| No.42 | | Irving (Transformed) | アーヴィング(変身後) | 500 | Collect 5 BSAA emblems; complete Chapter 3 |
| No.43 | | Chris (Rare) | クリス(シークレット) | 500 | Collect 25 BSAA emblems; clear all chapters |
| No.44 | | Sheva (Rare) | シェバ(シークレット) | 500 | Collect 25 BSAA emblems; clear all chapters |
| No.45 | | Jill (Rare) | ジル(シークレット | 500 | Get an "A" in all chapters |
| No.46 | | Wesker (Rare) | ウェスカー(シークレット) | 500 | Get an "S" in all chapters |
DLC figurines
| Number | Image | Name | Japanese | How to unlock |
| --- | --- | --- | --- | --- |
| Ex.No.1 | | Chris (Warrior) | クリス(Warrior) | Complete all chapters |
| Ex.No.2 | | Sheva (Fairy Tale) | シェバ(Folklore) | Complete all chapters |
| Ex.No.3 | | Chris (Heavy Metal) | クリス(Exoskeleton) | Complete all chapters |
| Ex.No.4 | | Sheva (Business) | シェバ(Office lady) | Complete all chapters |
| Ex.No.5 | | Barry | バリー | Complete all chapters |
| Ex.No.6 | | Rebecca | レベッカ | Complete all chapters |
| Ex.No.7 | | Chris & Jill | クリス&ジル | Finish Lost in Nightmares |
| Ex.No.8 | | Jill & Josh | ジル&ジョッシュ | Finish Desperate Escape |
| Ex.No.9 | | Chris & Sheva 1 | クリス&シェバ(その1) | Finish Mercenaries Reunion with Sheva (Fairy Tale) OR Chris (Warrior) with a S rank |
| Ex.No.10 | | Chris & Sheva 2 | クリス&シェバ(その2) | Finish Mercenaries Reunion with Sheva (Business) OR Chris (Heavy Metal) with a S rank |