Film D (フィルムD, Firumu D?) is a file that can be found in Resident Evil 2.
Location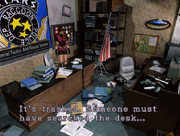 The file is obtained from one of the films, found in the S.T.A.R.S. office. The film is hidden and can only be revealed by examining Wesker's desk—on the far left side of the room—fifty times. On the fiftieth examine, the film can be picked up.
Developing the film in the Dark Room will create the file.

Transcript
Gallery
Official English localization
Original Japanese script
Ad blocker interference detected!
Wikia is a free-to-use site that makes money from advertising. We have a modified experience for viewers using ad blockers

Wikia is not accessible if you've made further modifications. Remove the custom ad blocker rule(s) and the page will load as expected.