Folding Knife is a melee weapon in Resident Evil Outbreak. It is David King's starting weapon with it in his tool box.
Using the knife
Edit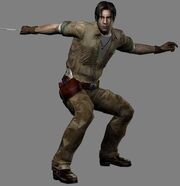 David can be quite dangerous with this equipped, able to initiate a 3-Hit Combo (4-Hit Combo in File 2) and can even strike an enemy from a considerable distance. It is the weakest weapon overall by doing only 40HP to enemies, but it will deal five times more of its base damage to certain bosses, specially the Thanatos.
Locations
Edit
It is also obtainable in the Decisions, Decisions scenario in Resident Evil Outbreak and in the Underbelly scenario in Resident Evil Outbreak File 2.
Bibliography
Edit
Items in the Outbreak series

Key items
Personal items
Health items
Other / Extra items
Weapons
Ammunition
Ad blocker interference detected!
Wikia is a free-to-use site that makes money from advertising. We have a modified experience for viewers using ad blockers

Wikia is not accessible if you've made further modifications. Remove the custom ad blocker rule(s) and the page will load as expected.