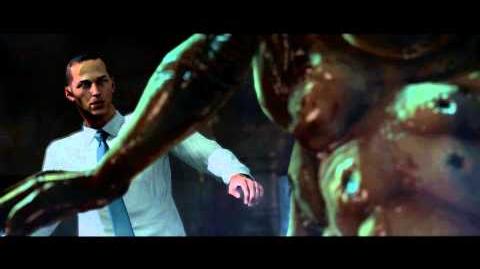 From Whence Hell Came (地獄の根源 ?) is a cutscene in Resident Evil 6. It is played during Leon Chapter 2.
Plot
| | |
| --- | --- |
| | This section is empty. You can help out the Resident Evil Wiki by inserting the appropriate content here. |
Transcript
Helena: "What is that thing?"
Leon: "You're asking me?"
Woman: "Are you OK!?"
Leon: "I'm guessing that's what unleashed this hell."
The original Japanese transcript for this file is not yet present. Please add it.
Resident Evil 6 cutscene library
Leon Story
Chris Story

Chapter 1
Chapter 2
Chapter 3
Chapter 4
Chapter 5
Ending

Jake Story

Chapter 1
Chapter 2
Chapter 3
Chapter 4
Chapter 5
Ending

Ada Story

Chapter 1
Chapter 2
Chapter 3
Chapter 4
Chapter 5
Ending