Mainstream universe
(Capcom's primary storyline)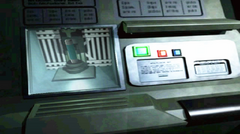 The G-Vaccine (codenamed DEVIL) was a counterpart to the G-Virus developed in the Raccoon City Underground Laboratory as an extension to Drs. William and Annette Birkin's G Project. As a vaccine, it was able to stimulate the human immune system to create antibodies capable of fighting the G-Virus. While the vaccine was able to prevent massive mutations in the infected when injected early, cellular regeneration could still be enhanced.
Its codename comes from the fact that Birkin wanted to create a new god-like super-human species with the G-Virus[1].
Ad blocker interference detected!
Wikia is a free-to-use site that makes money from advertising. We have a modified experience for viewers using ad blockers

Wikia is not accessible if you've made further modifications. Remove the custom ad blocker rule(s) and the page will load as expected.