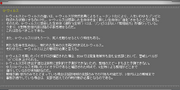 The G-Virus report was the official file on the God virus, which could be accessed on the BSAA Remote Desktop.
Transcript
Edit
---
Notice: This article or section is devoted to translating foreign text into English. Transcription has been completed; translation is unfinished.
---
G-ウイルスとt-ウイルスの違いは、t-ウイルスが突然変異によるミュータント化により、人をいわゆるゾンビと
呼ばれる状にするのに対し、G-ウイルスは感染した生命体を全く新しい生命体に"進化"させるところにある。
そのため、G-ウイルスに感染した生命体 (通称"G生物") には、 ゾンビにはない 「繁殖能力」 が備わっている。
つまり、 G生物は2世代目以降の子孫を残せるのだ。
これは恐るべきことである。

また、 G-ウイルスにはもう一つ、 死人を甦らせるという特性もある。

新たな生命を生み出し、 奪われた生命の火を再び吹き込むG-ウイルス。
それゆえに、 t-ウイルス以上の警戒が必要と言える。

G-ウイルスを用いたバイオテロが確認された場合。 BSAAでは発生地域外も含む全支部において、 警戒レベルが
"10"に引き上げられる。
G-ウイルスが引き出す進化は非常に変則的で予測ができないため、 繁殖のスピードもまた矛測できない。
ゆえにG-ウイルスを用いたバイオテロであると確認された時点で、 G生物による繁殖がどこまで
進行してるかが未知数なのだ。
繁殖が第1世代のみでとどまっている場合は当諺地域の支部のみでの対処も可能だが、 3世代以上の繁殖まで
事能が進行している場合は、 支部を越えての作戦行動が必要となるのである。
G-ウイルスとt-ウイルスの違いは、t-ウイルスが突然変異によるミュータント化により、人をいわゆるゾンビと呼ばれる状にするのに対し、G-ウイルスは感染した生命体を全く新しい生命体に"進化"させるところにある。
Therefore, organisms infected with the G-Virus (commonly known as "G-organisms") are gifted with "fertility" unlike Zombies. In other words, G-organisms leave behind subsequent second-generation offspring. This is a terrifying thing.

In addition, the G-Virus has another characteristic where they revive the dead.

新たな生命を生み出し、 奪われた生命の火を再び吹き込むG-ウイルス。
それゆえに、 t-ウイルス以上の警戒が必要と言える。

G-ウイルスを用いたバイオテロが確認された場合。 BSAAでは発生地域外も含む全支部において、 警戒レベルが"10"に引き上げられる。
G-ウイルスが引き出す進化は非常に変則的で予測ができないため、 繁殖のスピードもまた矛測できない。
ゆえにG-ウイルスを用いたバイオテロであると確認された時点で、 G生物による繁殖がどこまで進行してるかが未知数なのだ。
繁殖が第1世代のみでとどまっている場合は当諺地域の支部のみでの対処も可能だが、 3世代以上の繁殖まで事能が進行している場合は、 支部を越えての作戦行動が必要となるのである。
BSAA Remote Desktop

Reports
Umbrella folder
Virus reports
Personnel files
Other files
Ad blocker interference detected!
Wikia is a free-to-use site that makes money from advertising. We have a modified experience for viewers using ad blockers

Wikia is not accessible if you've made further modifications. Remove the custom ad blocker rule(s) and the page will load as expected.