Ad blocker interference detected!
Wikia is a free-to-use site that makes money from advertising. We have a modified experience for viewers using ad blockers

Wikia is not accessible if you've made further modifications. Remove the custom ad blocker rule(s) and the page will load as expected.
| | |
| --- | --- |
| | This article is an 'Orphan' |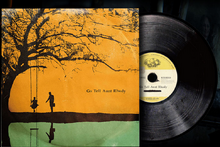 Go Tell Aunt Rhody is an American folk song dated as early as the mid-19th century. A folk song written for young children about the death of one of the titular Aunt Rhody's geese, the tune is derived from the works of 18th century composer Jean-Jacques Rousseau. The "TAPE-1" trailer for Resident Evil 7: Biohazard used a variation of this folk song, keeping the chorus melody and the line "Go Tell Aunt Rhody"; the "TAPE-2" trailer also began with whispers of the song.
Modified lyrics
Go Tell Aunt Rhody,
Go Tell Aunt Rhody,
Go Tell Aunt Rhody,
That every-body's dead.

I was raised in a deep and dark hole,
A prisoner with no parole,
They locked me up and took my soul,
Shamed of what they'd made.

I call to him and he will come,
She'll answer him like he's the one,
His arm's outstretched, but when she's done,
He'll be torn apart.

Go Tell Aunt Rhody,
Go Tell Aunt Rhody,
Go Tell Aunt Rhody,
(piano replicates the words "that every-body's")

Go Tell Aunt Rhody,
Go Tell Aunt Rhody,
Go Tell Aunt Rhody,
That every-body's,
Every-body's,
Every-body's,
Dead.

(Go Tell Aunt Rhody)
(Go Tell Aunt Rhody)
(Go Tell Aunt Rhody)
Sources