Ad blocker interference detected!
Wikia is a free-to-use site that makes money from advertising. We have a modified experience for viewers using ad blockers

Wikia is not accessible if you've made further modifications. Remove the custom ad blocker rule(s) and the page will load as expected.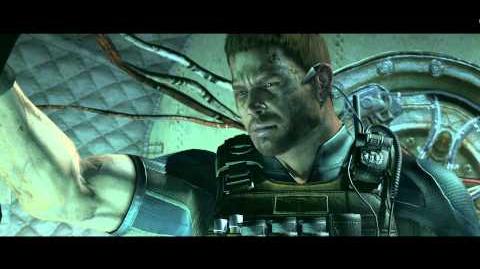 Goodbye, Piers is a cutscene in Resident Evil 6. It is played at the end of Chris Chapter 5.
| | |
| --- | --- |
| | This section is empty. You can help out the Resident Evil Wiki by inserting the appropriate content here. |
Transcript
Edit
Chris: Piers!
Damn it...

Piers: Just go!

Chris: No! You're gonna be OK!
We're almost there!
The escape pods!
See that? We'll be outta here in no time!

---
Chris: Come on... got it!
Here we go, Piers, we're gettin' out of here.

Chris: Piers! No, don't do this! Open the door!
Goddamn it, listen to me!
We can still both get outta here!
There's still time!
What are you doing?
No, Piers, don't! You can still make it out!
Goddammit, Piers!
No!
Piers! Open the goddamn door -- that's an order!
No...
Piers!
Chris: ピアーズ!
くそっ...

Piers: 行ってください...

Chris: ダメだ 一緒に行くぞ...!
大丈夫だ...!
脱出ポッドだ...
見えるか?もうすぐだぞ...!

---
Chris: よし...いけるぞ
行こう ピアーズ
ここから出るんだ

Chris: ピアーズ!何をしている!
開けるんだ!
くそ...!まだ諦めるな!
二人でここを出るんだ!
時間はある!
何をする気だ...
ダメだ...ピアーズやめろ!
諦めるんじゃない!
やめるんだ!ピアーズ!
やめろ!
ピアーズ!
こいつを開けろ!命令だ!
やめてくれ...
ピアーズ!
Resident Evil 6 cutscene library
Leon Story
Chris Story
Jake Story

Chapter 1
Chapter 2
Chapter 3
Chapter 4
Chapter 5
Ending

Ada Story

Chapter 1
Chapter 2
Chapter 3
Chapter 4
Chapter 5
Ending