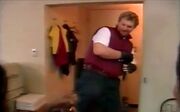 Gregory Smith
is an actor who played
Barry Burton
in the live-action sequence. He lives in Australia. He is a principal in a school at South Wagga and has three daughters
[1]
.
Gregory wasn't Barry Burton's voice actor, he only portrayed Barry. Character of Barry Burton was voiced by Barry Gjerde both in live-action cutscenes and in game dialogues[2].
↑ http://www.residentevildatabase.com/entrevista-com-gregory-smith-o-ator-de-barry-burton-em-resident-evil/#english
Ad blocker interference detected!
Wikia is a free-to-use site that makes money from advertising. We have a modified experience for viewers using ad blockers

Wikia is not accessible if you've made further modifications. Remove the custom ad blocker rule(s) and the page will load as expected.