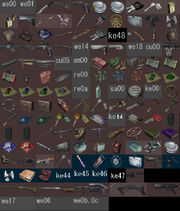 This Hand Grenade was going to be a usable weapon in Resident Evil Zero but was removed in the final release. You can get the grenade in the Biohazard 0 TRIAL EDITION with the help of cheat devices such as Action Replay MAX or GameShark. However, it does nothing.
Resident Evil Zero deleted material
Ad blocker interference detected!
Wikia is a free-to-use site that makes money from advertising. We have a modified experience for viewers using ad blockers

Wikia is not accessible if you've made further modifications. Remove the custom ad blocker rule(s) and the page will load as expected.