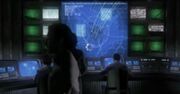 Heaven's Gate
was the code call for a strategic military installation involved in the t-Virus epidemic of September 1998, which enacted "
Mission Code XX
", decimating
Raccoon City
in an attempt to contain the outbreak. It is likely, by geography, that Scott Air Force Base was "Heaven's Gate".
On October 1, 1998, Heaven's Gate's last action, "Mission Code XX", was greenlit by governmental order, following the deaths of all military personnel sent in to attempt to contain the crisis and evacuate civilians. It was the final, desperate attempt to contain the outbreak, of which the military personnel involved were clearly uncomfortable with enacting. At least six fighter/bombers, codenamed "Angel", were deployed to ensure Raccoon City's destruction.