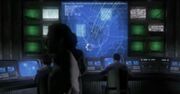 The Heaven's Gate is a military installation that oversaw the execution of the Sterilization Operation and the decimation of Raccoon City.
On October 1, 1998, the Heaven's Gate was given order by the government to destroy Raccoon City to prevent further outbreaks of the t-Virus, at least six aircraft (codenamed "Angel") were deployed to ensure Raccoon City's destruction. The military personnel of Heaven's Gate witnessed Raccoon City's destruction via air camera.
Ad blocker interference detected!
Wikia is a free-to-use site that makes money from advertising. We have a modified experience for viewers using ad blockers

Wikia is not accessible if you've made further modifications. Remove the custom ad blocker rule(s) and the page will load as expected.