Ad blocker interference detected!
Wikia is a free-to-use site that makes money from advertising. We have a modified experience for viewers using ad blockers

Wikia is not accessible if you've made further modifications. Remove the custom ad blocker rule(s) and the page will load as expected.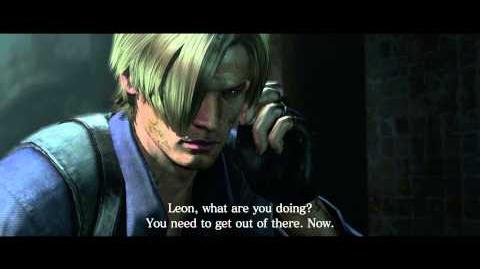 Ingrid Hunnigan is a cutscene in Resident Evil 6. It is played during Leon Chapter 5.
Plot
| | |
| --- | --- |
| | This section is empty. You can help out the Resident Evil Wiki by inserting the appropriate content here. |
Transcript
Leon: "How do you feel...?"
Helena: "I think I'm gonna be OK... Thank you."
Ingrid (radio): "Leon, what are you doing? You eed to get out of there. Now."
Leon: "We're heading to the Quad Tower."
Ingrid (radio): "What...!? No, it's too dangerous!"
Leon: "There are BSAA agents there with survivors. I can't abandon them."
Ingrid (radio): "...All right... Then let me help. I'll direct you through the safest route."
Leon: "Thanks, Hunnigan..."
The original Japanese transcript for this file is not yet present. Please add it.
Resident Evil 6 cutscene library
Leon Story
Chris Story

Chapter 1
Chapter 2
Chapter 3
Chapter 4
Chapter 5
Ending

Jake Story

Chapter 1
Chapter 2
Chapter 3
Chapter 4
Chapter 5
Ending

Ada Story

Chapter 1
Chapter 2
Chapter 3
Chapter 4
Chapter 5
Ending