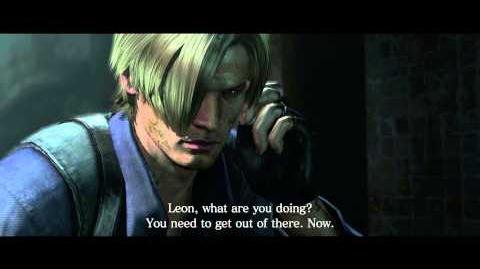 Ingrid Hunnigan is a cutscene in Resident Evil 6. It is played during Leon Chapter 5.
Plot
| | |
| --- | --- |
| | This section is empty. You can help out the Resident Evil Wiki by adding to it. |
Transcript
Leon: "How do you feel...?"
Helena: "I think I'm gonna be OK... Thank you."
Ingrid (radio): "Leon, what are you doing? You eed to get out of there. Now."
Leon: "We're heading to the Quad Tower."
Ingrid (radio): "What...!? No, it's too dangerous!"
Leon: "There are BSAA agents there with survivors. I can't abandon them."
Ingrid (radio): "...All right... Then let me help. I'll direct you through the safest route."
Leon: "Thanks, Hunnigan..."
The original Japanese transcript for this file is not yet present. Please add it.
Bibliography
Sources