Jason Isaacs
is an actor in
the first Resident Evil movie
. Isaacs narrates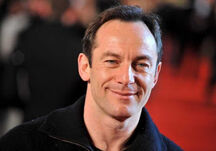 the opening sequence of the film, and makes an uncredited cameo in the end as
William Birkin
. According to the commentrary on the original Resident Evil movie both the producer Jeremy Bolt and director Paul W.S. Anderson expressed concern over whether they'd paid Issacs for any of the narration work he'd done.
Isaacs was allegedly supposed to reprise his role as Birkin for the sequel, Resident Evil: Apocalypse, he left the project for undisclosed reasons. The character created to fill the space was named Sam Isaacs in his honor.
Ad blocker interference detected!
Wikia is a free-to-use site that makes money from advertising. We have a modified experience for viewers using ad blockers

Wikia is not accessible if you've made further modifications. Remove the custom ad blocker rule(s) and the page will load as expected.