Mainstream universe
(Capcom's primary storyline)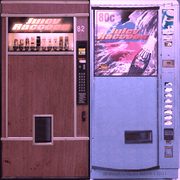 Juicy Raccoon was a brand of cola-based beverage being sold as early as 1998 at a price of 82 cents for bottles. The Raccoon City Police Department had a vending machine for bottles of Juicy Raccoon.
Further notes
Edit
The apparent logo for 'Juicy Raccoon' is similar to the Pepsi logo, the drinks maker being popular in Japan.
Ad blocker interference detected!
Wikia is a free-to-use site that makes money from advertising. We have a modified experience for viewers using ad blockers

Wikia is not accessible if you've made further modifications. Remove the custom ad blocker rule(s) and the page will load as expected.