Kevin Ryman was an officer of the Raccoon City Police Department. He possesses superior athletic abilities and is an outstanding marksman.[2] An all-around good guy, he is a dyed-in-the-wool optimist who doesn't dwell on petty matters. Even though Kevin's very cheery, his quote above relates to the fact that he can be very impatient sometimes.
Biography
Edit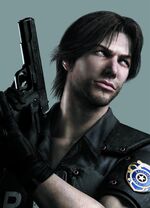 His happy-go-lucky personality occasionally worked against him (a contributing factor to his two failures in the S.T.A.R.S. selection process).[3]
On September 24, 1998, the t-Virus that had plagued Raccoon City and the Arklay Mountains had reached critical levels. The local police force became aware of the situation and prepared a citywide evacuation. A roadblock to prevent an invasion at J's Bar and the surrounding businesses would be assembled too late, which ultimately led to Will, the working bartender, being assaulted and bitten by an invading zombie, which forced the panicked patrons, which included Kevin, to flee before the bar was overrun.
Some time later, Kevin would reach the Raccoon Police Department with the hope of reuniting with his fellow police officers. With the majority of the officers dead, infected, or stranded elsewhere, only five of his fellow officers had managed to avoid similar fates. After cooperating with the other survivors to aid in securing their safe passage out of the police station, Kevin, his surviving J's Bar cohorts, and Rita managed to escape in a police van as the police department was being overrun by the undead.
After Raccoon
Edit
After the Raccoon City Incident, Kevin is seen talking to someone on a gas station payphone. He says that he has a fresh start with a new job in Miami and compliments the weather, saying that it should be fun. He then jumps on his Motorbike and rides toward the horizon.[4]
Appearance and Wardrobe
Edit
As an officer, Kevin's RPD uniform is his standard issue - kevlar strips on torso and vital upper parts. He also gets along with his favorite Colt by side.
Kevin has 2 alternate outfits to unlock:
Type B: Six Shooter, a Texas Dueler with Hot-shot looking. (Unfortunately, the revolver is not included.) 
Type C: Lone Wolf, a hometown cop with a Fit-To-The-Bone jacket. It has an unidentifiable logo, which maybe a Deputy or Sheriff Star. 
↑ 1.0 1.1 1.2 Resident Evil Outbreak File 2 character menu.
↑

Potshot ability.

↑

Manual.

↑ Resident Evil Outbreak File #2, Kevin's Epilogue.
Ad blocker interference detected!
Wikia is a free-to-use site that makes money from advertising. We have a modified experience for viewers using ad blockers

Wikia is not accessible if you've made further modifications. Remove the custom ad blocker rule(s) and the page will load as expected.