"The number 002 is engraved."
— Item description.
Key for Room 002 is a key item that can be found in Resident Evil.
It opens the room with "002" plate at the Dormitory corridor.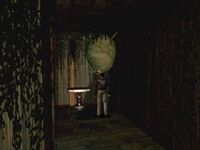 The key can be found in the Gallery, under the bee hive. Player must run away after obtaining the key, to avoid being attack by the Wasp.
Resident Evil-specific items
Weapons
Defense items
Ammunition

Mansion
Courtyard
Dormitory
Laboratory

Recovery items
Key items
Other items
Ad blocker interference detected!
Wikia is a free-to-use site that makes money from advertising. We have a modified experience for viewers using ad blockers

Wikia is not accessible if you've made further modifications. Remove the custom ad blocker rule(s) and the page will load as expected.