Mainstream universe
(Capcom's primary storyline)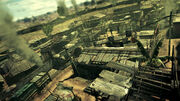 Kijuju was a West African city and namesake of the Kijuju Autonomous Zone.
Geography
Edit
Kijuju was an isolated city, surrounded by coastline; savannah and wetlands. A river cut through the city, separating the more prosperous areas from the shanty town.
The city's economy was heavily dependent on a quarry, and the railway lines which exported the materials elsewhere. There was a limited fishing enterprise on the coast, supporting a marketplace near the shanty town.
Ad blocker interference detected!
Wikia is a free-to-use site that makes money from advertising. We have a modified experience for viewers using ad blockers

Wikia is not accessible if you've made further modifications. Remove the custom ad blocker rule(s) and the page will load as expected.