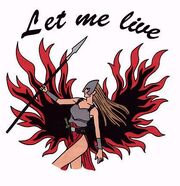 Let Me Live is a jacket decal worn by Claire Redfield, originally featured in Resident Evil 2 and Resident Evil CODE:Veronica.
History
In Resident Evil 2, the decal appeared on the back of Claire's leather jacket costume. It was unlocked using the Special Key.
In CODE:Veronica, Claire wore the decal on the back of her vest in her standard outfit. Her standard outfit was redesigned for Resident Evil: The Darkside Chronicles and the decal remained. This redesign has been featured in subsequent games in the series starring Claire.
Appearances
Resident Evil 2 (Featured in unlockable costume)
Resident Evil CODE:Veronica
Resident Evil Outbreak File 2 (Featured in special item)
Resident Evil: The Darkside Chronicles
Merchandise
Gallery
Further notes
Sources
References
↑ BIOHAZARD Code Veronica Promo Lighters Limited Wood Box Set. Resident Evil Collectors. Retrieved on 2014-09-15.