Ad blocker interference detected!
Wikia is a free-to-use site that makes money from advertising. We have a modified experience for viewers using ad blockers

Wikia is not accessible if you've made further modifications. Remove the custom ad blocker rule(s) and the page will load as expected.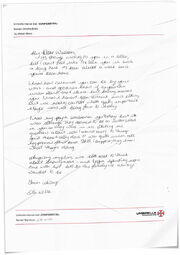 This letter from Annette Birkin to her husband was found by Ian Sider, who leaked it onto the internet as a file titled "LetterFromAnnette.html". An image of the document was also uploaded under the title "Annete.jpg", misspelling her name.
Transcript
Umbrella internal mail - CONFIDENTIAL -
Sender: Annette Birkin
To: William Birkin

My dear William,
It's strange writing you a letter,
but I don't feel like I've seen you in such
a long time. It's been almost a week since
you've been home.

I know how you can be consumed by your
work – and goodness knows if anyone can
understand that it's me – but Sherry misses
you. I know I haven't been around much either,
but we need to consider what's really important.
Maybe we're not being fair to Sherry.

I had my psych evaluation yesterday but it
 was strange. They seemed to be as interested
in you as they were in me. Asking me
questions about how I would react to things
you'd theoretically done. It was quite unlike all
my previous other ones. Still, I suppose they know
what they are doing.

Anyway my love, we both need to think
about Sherry more – and begin spending more
time with her. Let's be the family we always
wanted to be.

Yours always,

Annette