The Magnum is a powerful weapon found in Resident Evil 2. This gun has been identified as a Desert Eagle according to the Examine screen. The gun's grips feature the medallion of the R.P.D. Like most firearms of the R.P.D, it is not generally used by other police forces.
Gameplay
The Magnum holds eight Magnum Bullets and can kill tough enemies like the normal lickers in one shot. Ammunition is scarce and it is recommended to save it for boss battles.
In the main game, Leon finds this weapon in Scenario A in a guard shack near a dead guard. In Scenario B, he finds this weapon in the weapon safe inside the S.T.A.R.S. office.
Leon later can find Magnum Parts inside William's weapons locker in the Umbrella Labs if the player has found the special key for it. Combining the weapon with the parts upgrades the gun into the Custom Magnum, a Desert Eagle with a black 10-inch barrel (although the barrel still looks stainless steel during gameplay). The capacity remains the same, but its clip is refilled when upgraded.
The upgrade increases even more the firepower of the already powerful gun, making it the second most powerful weapon in the game next to the Rocket Launcher. The recoil is also increased, causing Leon to back down significantly with each shot. It also gains the ability to kill several zombies standing behind each other.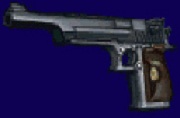 In The Fourth Survivor mini-game, HUNK carries the basic Magnum in his inventory along with 8 Magnum Bullets.
In the Extreme Battle, Leon starts the mini-game with the Magnum in his inventory. While playing, there is a 50% chance that the Magnum Parts will appear on Level 1. They can specifically be found inside one of the lockers in the Evidence Room.
"Desert Eagle .50 A.E. A high caliber magnum pistol. It uses powerful .50 A.E. rounds. By IMI Israel."

"Desert Eagle .50 A.E 10 inch. 10 inch barrel is put on to D.E.50 A.E. It can fire .50 A.E rounds more powerfully."

In other canon
A special chrome version of the 10-inch barrel Desert Eagle was given to Leon by his father and uncle as a graduation present from the police academy in the novel Resident Evil: City of the Dead. It's rubber grips has the same design as the RE2 Magnum's.
Airsoft Models
Tokyo Marui, a Japanese Airsoft gun company, has manufactured three limited edition airsoft models of Leon's Desert Eagle.
The first airsoft gun made is the standard RE2 Magnum. The second model that followed is the Custom Magnum. The most recently produced model is the City of the Dead version (referred to as the "Leon Custom"). All versions have the name "Leon" carved on the grips.
Other appearances
The following are also Desert Eagle or weapons with similar design according to each game they appear in:
Gallery