"It appears to be a key to open the hall entrance of a restaurant."
— Item examination
The Manager's Key is an item in Resident Evil Survivor.
It is used in the Kitchen to unlock the door to the Hall.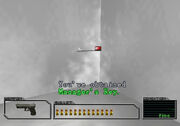 It is found in the back corner of the Freezer in the Restaurant.
Bibliography
Edit