"It's a death mask without a mouth."
— Item examination.
The Mask without a mouth is a key item in Resident Evil. It is mentioned in the Book of Curse as "a mask that speaks no evil".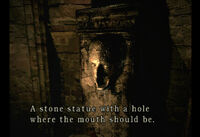 It is one of the four Death Masks needed to release the coffin inside the underground crypt. The mask is to be placed on the statue with the "A stone statue with a hole where the mouth should be." localization upon examine.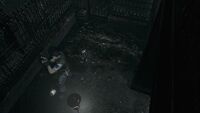 The "Mask without a mouth" can be retrieved from the Spencer Mansion's Large Gallery after completing a puzzle involving stained-glass windows. It will be in an outside section next to the gate leading to the area behind the entrance hall.
Bibliography
Edit
Resident Evil-specific items
Weapons
Defense items
Ammunition

Mansion
Courtyard
Dormitory
Laboratory

Recovery items
Key items
Other items
Ad blocker interference detected!
Wikia is a free-to-use site that makes money from advertising. We have a modified experience for viewers using ad blockers

Wikia is not accessible if you've made further modifications. Remove the custom ad blocker rule(s) and the page will load as expected.