Ad blocker interference detected!
Wikia is a free-to-use site that makes money from advertising. We have a modified experience for viewers using ad blockers

Wikia is not accessible if you've made further modifications. Remove the custom ad blocker rule(s) and the page will load as expected.
The Materials Storage (資材置き場, Shizai okiba?) is an underground area of the Courtyard.
Description
The storage are stored with plenty of barrels and boxes labeled as "Chemicals". Further ahead, there's a transportation device which is used to transport waste supplies to the waste treatment plant using the cave passage.
Guide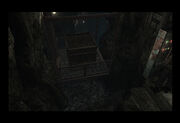 Here, player can push/move the large box onto the transportation devices before delivering it to the Waste treatment plant.
Examines
| Location | Localization | Original script |
| --- | --- | --- |
| Boxes | The boxes are labeled "CHEMICALS". | |
| Transportation device | A device for transportation materials. Start it up? Yes/No | |
| Transportation device (After the box is deliver) | You don't need to dink around with this anymore. | |
Gallery