"This is a key to open the door of the medicine room"
— Item examination
The Medicine Room Key (薬剤室のカギ, Yakuzai-shitsu no kagi?) is a key item in Resident Evil Survivor.
Purpose
This key unlocks the medicine room at the Central Hospital.[1]
Location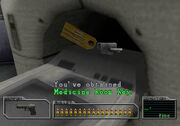 The key is found in the Laboratory on floor 1F.[1]
Bibliography
Sources