Mainstream universe
(Capcom's primary storyline)
"We must channel our knowledge to the future, for it shall always show us our greatest destiny."

Michael Warren was the last mayor of Raccoon City.
Biography
Edit
In the 1960s, Warren was an engineer in charge of the electrification of the small mountain town of Raccoon City.[1] He was elected its mayor in 1987 and stayed in power until the city's destruction in 1998 from an atomic blast.[1] In 1992, a statue of Warren was erected at City Hall.[1]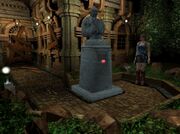 During the Raccoon City Destruction Incident, Warren sent his daughter to the local police precinct for safety, not knowing she would be hunted down and murdered by the Chief of Police, Brian Irons.[2] Later on in the outbreak, Warren escaped the city before its destruction,[1] though how he did so has never been specified.
Further notes
Edit
In S.D. Perry's novelization of Resident Evil 2, City of the Dead, Warren is instead the former mayor of Raccoon City, having lost an election shortly before the outbreak. Consequently, the woman entrusted to Chief Irons is the daughter of Mayor Harris.
↑ 1.0 1.1 1.2 1.3 Resident Evil 5 (2009), file:History of RESIDENT EVIL".
↑ Resident Evil 2 (1998), file: "Chief's Diary".
Ad blocker interference detected!
Wikia is a free-to-use site that makes money from advertising. We have a modified experience for viewers using ad blockers

Wikia is not accessible if you've made further modifications. Remove the custom ad blocker rule(s) and the page will load as expected.