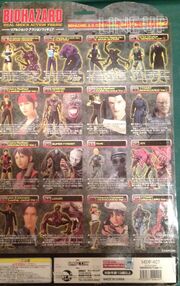 Moby Dick released their fourteenth line of "BIOHAZARD REAL SHOCK ACTION FIGURES" which, like many of the others, consisted of only one product.
Products
Licker
The Licker model comes with an attatchable tongue and a collectible part for Moby Dick's prized Nemesis figurine.
Gallery
Sources
Moby Dick BIOHAZARD products
Figures
---
ATTENTION! This article is considered to be a stub page. You can help the Resident Evil Wiki by expanding it.
---